ANALYSIS THIRD QUARTER 2019
Context
The underlying LVS account in Darwinex has closed the third quarter of the year with a profit of 16.20% (including floating P/L). At macroeconomic level, the last months have probably been the most lively for a long time. First, a worrying quarterly GDP results in the US and also in Europe have brought a greater volatility to markets, with losses in the stocks markets and a following recovery thanks to a quick intervention of central banks to temporarily calm the waters. On the other hand, the trade war between China and United States has experienced very tense moments but finally seems to be relaxing. At the end of September, new 25% tariffs have also been announced for european products by the US. In addition we still have the "Brexit" issue on the agenda. It is clear that the will of both parties is to tighten the thumbscrews until the last minute and October will be the key month to know how this long and tedious negotiation will end.
All these news have moved to the markets increasing volatility and, as we have explained before, these market conditions are very positive to our portfolio. Here you can see the table corresponding to each cross negotiated by volume:
Compared to the previous quarter, we see that activity in JPY pairs has risen significantly, mainly due to the growing tension between the US and China, and its protectionist measures consequences. For instance, USDJPY has moved from 9.41% in the previous quarter to 15.19% in this quarter.
Next we put the picture that represents quarterly profits/losses of each FX pair in the underlying account. The table also includes floating until September 30th:
Below you will find the table detailing the number of trades and the average duration of each FX pair during this quarter. As you can see, the average duration is lower than in the previous quarter. In higher volatility markets, trades tend to reach closing levels sooner (both positive and negative):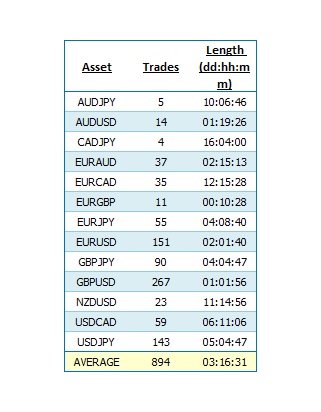 This spectacular quarter has reduced the drawdown almost completely. The red square represents July-September quarter where you can see the strength of the movement: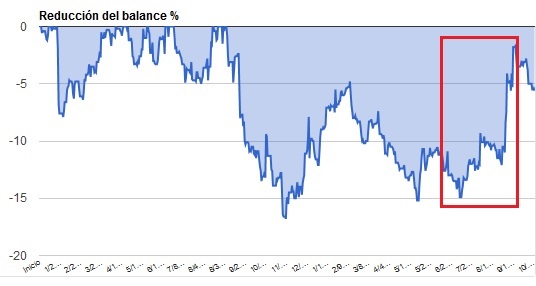 Trading View
This quarter we did not made substantial changes in the portfolio except the routine of updating parameters and settings.
Portfolio's composition at this time is appropriate. However, we keep the pound under surveillance and we do not rule out future changes in the corresponding pairs (GBPUSD and GBPJPY). We have temporarily removed CADJPY pair. Its relative weight in the portfolio has always been very low but past results deserve a deeper study on its possibilities.
The new indexes strategies (CFDs) we have been developing are ready. We have finished our tests with real money and they will be operational in the short term. Soon we will add a post on our website to explain in more detail our plans for this new investment proposal.
Sincerely,
Feycox Development S.L.