ANALYSIS FORTH QUARTER 2019
Context
The underlying LVS account in Darwinex has closed the last quarter of the year with a loss of -4.66% (including floating P/L). It has been a quarter of many contrasts. First, although global economic data remains worrying, the stocks markets have risen sharply since the previous quarter closing at historics highs. Investors have the feeling that the tools used by central banks are working properly (at least in the short term). On the other hand, the trade war between China and USA continues and is likely to persist in time. The present US economic policy is focused on increasing the protectionism and, as China is a powerful exporter, the tension between them will carry on. In the United Kingdom, last December elections have given a clear majority to the conservative party clarifying the way to Brexit once and for all.
After a very good Q3 of 2019 we have a pullback, especially during the last month. We have seen some good movements in currencies but without the enough volatility for our systems and we couldn't take advantage of it. Below you can see the table corresponding to each cross negotiated by volume:
Compared to the previous quarter, the activity in GBP and in CAD has risen slightly while the EURUSD has significantly lowered its negotiated volume. The JPY has also lowered its volume returning to its historical average.
Next is the chart that represents quarterly profits/losses of each FX pair in the underlying account, highlighting another great quarter for GBPJPY. The table also includes floating until December 31st:
Below you will find the table detailing the number of trades and the average duration of each FX pair during this quarter. The overall duration has been quite similar to the previous quarter: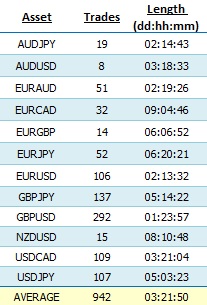 We finish with the drawdown graph. The negative result of this month has caused us to move away again from the recovery line. Even so, we are at absolute normal levels: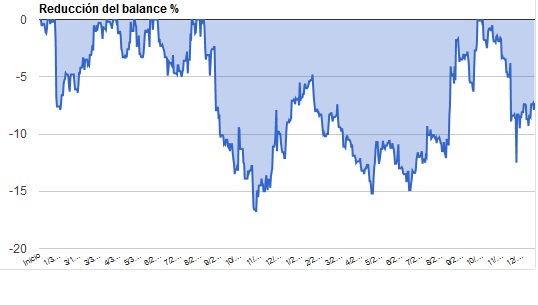 Trading View
In general, we will continue with the diversification we have at this moment. Although Brexit seems to have come to an end, we continue to monitor the current weight of the british pound in our portfolio waiting to see how the market reacts to this new scenario.
Regarding our new index strategy, implementation in darwin RVL is now complete. We are monitoring the evolution of the VaR to find a range between 5% and 10% approximately. More information about RVL can be found at this link: http://www.feycox.com/2019/10/22/rvl-presentation-english-and-spanish/
Sincerely,
Feycox Development S.L.