Context
Our Long Vision FX's account in Darwinex has closed with a profit of +5.14% in December (floating included). After 3 disappointing months, the portfolio has taken advantage of the increase in volatility that is moving from world stocks to currencies. Brexit's issue is still open and we are keeping an eye on the pound in the most delicate days. It is likely that we lower the risk in GBPUSD depending on the circumstances and future news until a solution on the Brexit negotiations is clearly defined.
Going into detail, British Pound (GBPUSD and GBPJPY) had a slightly positive result (+0.21%) meanwhile Canadian Dollar and Japanese Yen have disappointed throughout the month in their different crosses (-1.83% and -1.7% respectively). On the other hand, currencies linked to Australian Dollar have been the protagonists of a good rise (+5%), followed by the New Zealand Dollar (+1.97%). Below you will see a chart of closed trades during the last month. The percentage of each currency corresponds to monthly volume negotiated.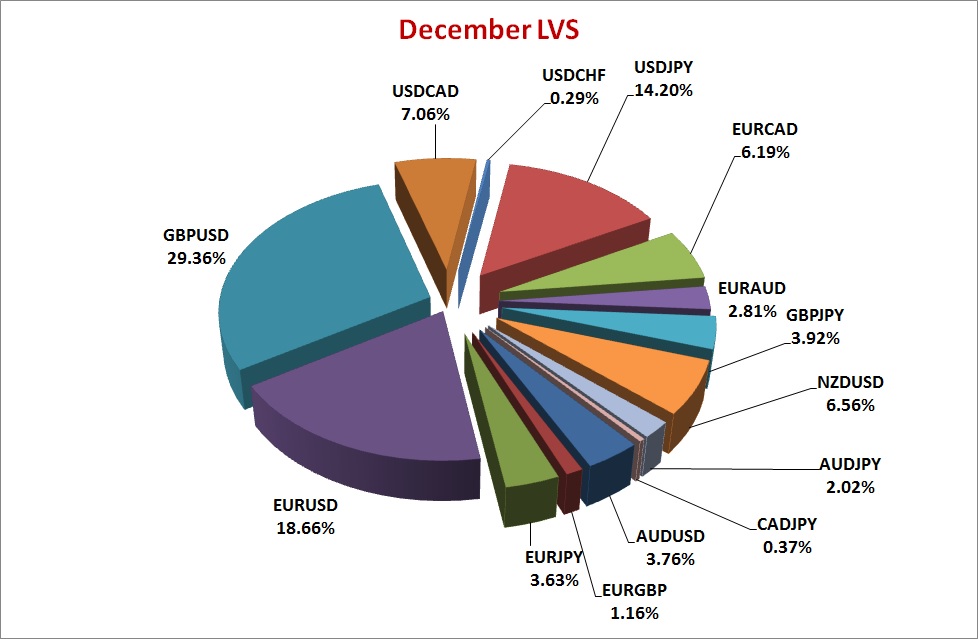 Regarding drawdown level, the underlying LVS account is recovering from its maximum drawdown in November.




Trading View and 2019 Outlook
2018 has been a difficult year where we had to check over some settings to improve the consistency of Long Vision FX. Although we are not satisfied with the results, it is good to point out that we have finished the year positive in a very complicated market environment. In 2019 we will continue with changes that we have added since Q2 of 2018. We would like to highlight that we are very close to implement a new development: index CFDs. We still have not decided whether to do it directly in Long Vision Fx's portfolio or create a dedicated account only for those assets.
Starting this month, we will publish our analysis on a quarterly basis (instead of monthly). We believe that a quarterly report is more appropriate for this kind of management. We reserve the right of further explanations in case of exceptional events.
Sincerely,
Feycox Development S.L.